Kris Murray declines NBA Combine invitation. What's next for Iowa basketball star?
Kennington Lloyd Smith III
Hawk Central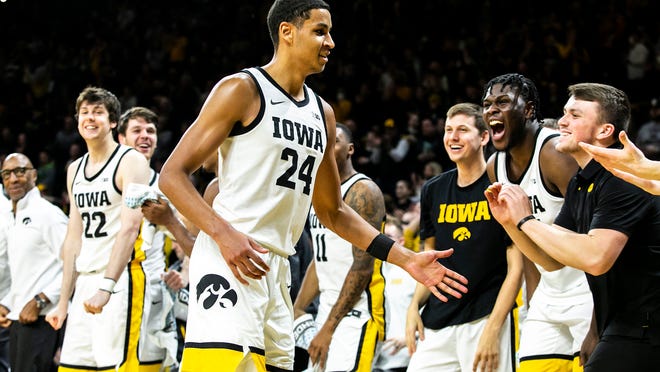 Iowa men's basketball player Kris Murray declined his invitation to the NBA Combine on Tuesday night. He received an invitation following a strong surge in draft buzz while training in Chicago alongside twin brother Keegan Murray, a projected lottery pick. 
Sure sign that he's returning to Iowa? It's not for certain, according to his father, Kenyon Murray. 
In an interview with Hawk Central on Wednesday morning, Kenyon Murray said Kris is "still in the draft process" and his decision to remain in the draft or return to Iowa will likely run its full course until the June 1 deadline. 
Several NBA teams have expressed interest to Kris and there's the possibility for invitations for individual workouts. Therefore, he's not shutting the door on those opportunities and the chance to pique a team's interest in a private session. In the meantime, Kris will continue his path of individual training and taking feedback from teams as it comes. 
Kris and Keegan have been training at a few different facilities, including the Wintrust Arena in Chicago where the combine is held. Their training groups include a wide range of players: NBA Draft hopefuls, NBA and overseas players, as well as NBA G-League players. Those workouts include 1-on-1's, 3-on-3's, situational drills, skills development and basketball classroom work.  
"He just wants all of the information that he can get," Kenyon said to KCJJ radio in a subsequent interview after talking with Hawk Central. "I think the day in, day out workouts against that kind of level of completion has really, really helped him. His confidence is sky high and I think he's in a good situation either way."
Last season, Murray demonstrated two valuable traits to NBA teams, 3-point shooting ability (38%, second-best at Iowa) and versatility on defense. Those skills paired with his 6-foot-8 and 225 pound frame makes Murray the prototypical "three-and-(defense)" prospect that professional teams covet. 
Previously:Inside Kris Murray's big decision: To stay in the NBA Draft or return to Iowa basketball?
Returning to Iowa remains an attractive option.
It's possible that Kris will enter next season as a projected first round pick and could play himself into a higher position with another strong season as the Hawkeyes No. 1 option. He just saw his twin brother do that last season.
And with more responsibility could bring a different dynamic to the team than Keegan did last season. 
"He's not going to be the same player as Keegan," Kenyon said. "(Kris) has always been  a face-to-the-basket, get to his spot (and shoot) and create for other people. He can play from the post but I think he's going to be deadlier from the perimeter. I think you're going to see a more well-rounded version of Kris being able to score at all three levels." 
Kenyon also addressed Name, Image, Likeness opportunities at Iowa on his KCJJ appearance. Kris Murray could attract a lucrative deal as a prominent college basketball player entering next season but according to Kenyon, any possible deal won't sway his decision-making process. 
"There's enough going on behind the scenes for him that he's not worried about that," Kenyon said. "His main focus of coming back would be to help this team to win a Big Ten title. NIL is nice but for us, a lot of athletes look at it as 'I can make $30,000 in the next couple of months' but what about $30 million in the next couple of years?
"Then is it a fly-by-night opportunity or something you can build a long-lasting relationship with? I think that's a key point for Keegan and Kris. There's going to be a lot of years after basketball so are there any opportunities to partner with companies and people for a long time that's not about just NIL but building a relationship and continuing to help one another." 
What to watch over the next few weeks will be if Kris sets up individual workouts with teams and the subsequent feedback. A team could like what they see enough to commit to using a draft pick on him or the feedback could be that they want to see Kris for another year at Iowa. 
Those results will weight heavily on what Kris decides to do. 
"I think in the end it comes down to where Kris is comfortable," Kenyon said to KCJJ on Wednesday. "Does he want to come back and become a potential All-Big Ten, All-American and playing alongside the guys coming back and possibly win another Big Ten title or does he like what he hears from an NBA team? It's probably going up to the deadline of June 1." 
Kennington Lloyd Smith III covers Iowa Hawkeyes football and men's basketball for the Des Moines Register. You can connect with Kennington on Twitter @SkinnyKenny_ or email him at ksmith@gannett.com.