Brandon Scherff delivers vintage performance, big blocks vs. Pitt
Rick Brown
ribrown@dmreg.com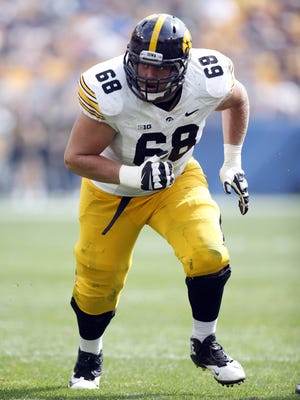 PITTSBURGH — Brandon Scherff's right knee feels much better. So does Iowa's running game.
Iowa's left offensive tackle had a dominating performance in Saturday's 24-20 victory over Pittsburgh at Heinz Field.
The victory came on the home turf of the NFL's Pittsburgh Steelers. The NFL, where Scherff hopes to be making his living a year from now.
Scherff's NFL stock went nowhere but up as the Hawkeyes' running game found a pulse in the second half. A clip of one of Scherff's crushing pancake blocks took an Internet life of its own after the game.
"Coach (Greg) Davis told us before the game that he was going to put it on our shoulders to determine the game," Scherff said of Iowa's offensive coordinator. "We got away from that the first three games."
Scherff injured his knee in the second quarter of the second game of the season, against Ball State. He missed two series, but returned to complete the game. A procedure was done on the knee Sept. 9, and many projections had him returning to the field for next week's game at Purdue.
Instead, Scherff gutted it out and played the entire game vs. Iowa State a week ago. He said he felt much better Saturday.
"I've been doing treatment with the training staff, and they're doing a heck of a job," Scherff said.
Iowa was facing a Pittsburgh team that was ranked ninth nationally in rush defense at 77.3 yards a game. The Hawkeyes' 133 yards in 35 attempts shows there's still room for improvement. But for the first time all season, the line carved out holes the second half, and Iowa appeared to be running downhill again. Mark Weisman had a season-high 88 yards in 22 carries.
"I thought we did well up front," Scherff said. "But we need to keep improving."
Weisman had room to run because Scherff and his linemates wore down the Panthers at the point of attack. Scherff said he could sense Pittsburgh was wearing down as the game went on.
"You could hear them breathing heavy," Scherff said. "They'd be late in their stance."
The line also kept Pittsburgh defenders off quarterback C.J. Beathard in the second half. The Panthers' blitz never got to him. And the ground game opened up.
"We just focused on the details," Scherff said. "Four yards turned into five, then eight. This feels good."
So does his knee. And his NFL Draft prospects have never looked better.