Wiegers replaces Beathard as most popular man on campus
Rick Brown
ribrown@dmreg.com
IOWA CITY, Ia. -- And the new most popular man on the University of Iowa campus is …Tyler Wiegers.
He succeeds C.J. Beathard, the Hawkeyes' newly christened starting quarterback.
"He's a great guy," Beathard said. "I love Tyler."
The backup quarterback always wins the popularity contest, after all. And that distinction now falls to Wiegers, a 6-foot-4, 222-pound freshman from Lake Orion, Mich.
Beathard was the most popular man on campus a season ago, when he backed up Jake Rudock. But Iowa coach Kirk Ferentz named Beathard the starting quarterback heading into spring ball. Rudock has decided to complete his eligibility at Michigan.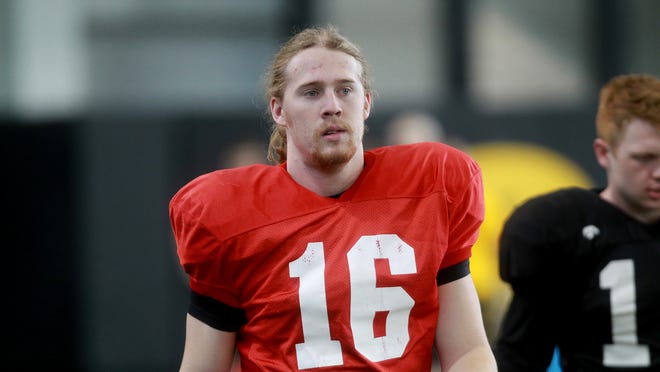 And Wiegers, who redshirted in 2014, was elevated to No. 2. Wiegers, who originally committed to Rutgers, started for three seasons at Detroit Country Day High School. He completed 122 of 192 passes for 2,093 yards and 24 touchdowns as a senior. He also rushed for 200 yards.
"He's a freshman, so things are kind of going fast for him right now," Beathard said. "But he's got a bright future ahead of him. He's a smart kid."
Wiegers' progress during the spring is something to keep an eye on. Especially if Beathard, who has two seasons of eligibility remaining, continues to run with wreckless abandon when a play breaks down like he did against Tennessee in the TaxSlayer Bowl. Beathard had eight carries for 82 yards in that game, with a long run of 33 yards. He also got crushed at the end of some of those runs.
"I took some hits in that game," Beathard said. "I don't want to be taking hits like that week in and week out."
But Beathard does want to be able to use his legs as well as his arm in 2015.
"That would be nice," Beathard said. "I'd like to run the ball a little bit, too. I obviously don't want to take any unnecessary hits."
And if he does? There's a chance that Wiegers will be the next man in.