Josh Rosen trade rumors: Odds released for where Arizona Cardinals QB will play in 2019
The Heat Index
azcentral sports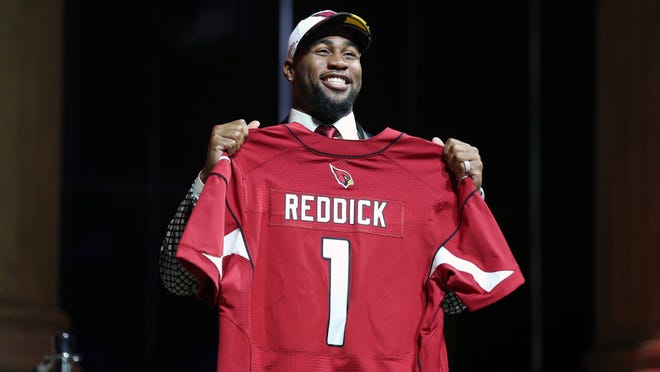 The NFL combine is in the books and preparations for the NFL draft and NFL free agency are starting to heat up.
Rumors and speculation are starting to run rampant and Arizona Cardinals quarterback Josh Rosen is right in the middle of them.
Many rumors have him potentially being traded so that the Cardinals can draft Oklahoma quarterback Kyler Murray with the No. 1 pick in the 2019 NFL draft.
Keep track of the latest chatter surrounding the Cardinals quarterback.
Odds: Where will Josh Rosen play next season?
Bet Online unveiled odds for which team Rosen plays for next season and the Washington Redskins, Miami Dolphins and New England Patriots are the favorites.
Washington is listed at 3-1 to acquire the Cardinals quarterback. Miami is 5-1 and New England is 6-1.
The New York Giants are 7-1, followed by the Los Angeles Chargers (15-2), Oakland Raiders (9-1), Cincinnati Bengals (12-1), Denver Broncos (12-1) and New Orleans Saints (12-1). 
The Pittsburgh Steelers are listed at 14-1.
NFL.com: 5 teams that make sense for Josh Rosen
Adam Rank lists the Giants as the team that makes the most sense to trade for Josh Rosen.
He writes: "This seems like the most obvious fit. Many questioned the Giants' selection of Saquon Barkley in last year's draft -- not because of Barkley himself (he's awesome), but because Big Blue chose to use the second overall pick on a running back instead of snagging a quarterback of the future. The Giants could now have the best of both worlds: a generational running back and a QB to take the torch from 38-year-old Eli Manning. (Although they still wasted a year of Barkley's limited prime, but what's done is done.) I appreciate that the Giants have chosen to remain loyal to Eli for all that he did for the franchise. But dude, just retire his number and let him go into broadcasting. Or the theater. Or whatever. It's time to move on. Let Rosen start this year. Put him together with Barkley, Odell Beckham Jr., Sterling Shepard and Evan Engram, and I'm here for it. So make it happen, Giants. Or Jags. Or ... you get the picture."
NFL MOCK DRAFT:Kyler Murray mania takes over Arizona Cardinals 2019 NFL draft projections
USA TODAY Sports: 7 fits for Josh Rosen if Cardinals draft Kyler Murray
Nate Davis lists the Washington Redskins No. 1 on his list to acquire the Cardinals quarterback.
He writes: "Before his awful leg injury, Alex Smith was a bridge to nowhere. Rosen, regarded in some circles as the best and most pro-ready passer entering the 2018 draft, could provide the answer under center for the future and present given the mystery clouding Smith's recovery. The main question here might be Arizona's price point. Would Washington be willing to part with this year's 15th overall pick for a player they could control contractually for five or six years? Or would the Redskins rather take their chances with a veteran like Ryan Tannehill or Teddy Bridgewater or draft options potentially including Drew Lock and Daniel Jones? Much to be unpacked in the nation's capital, but the Rosen solution looms as a fairly compelling one for a franchise mired in quarterback no man's land. Rosen for the 46th pick would seem like a no-brainer if Cards GM Steve Keim is amenable."
MORE:Arizona Cardinals NFL draft history: Quarterbacks picked through the years
Michael Rosenberg writes: "Rosen would have two choices then. He could stew, convince himself he was wronged by the Cardinals, and do only the minimum work that is required of him because hey, he is only the backup anyway. Or he could learn to become the star he has always assumed he would be. Josh Rosen's future is just as fascinating as Kyler Murray's. If he wants, it can be just as bright, too."
Sporting News: Does a Josh Rosen trade make sense for your team? Good chance the answer is yes'
Todd Haislop writes: This is a unique situation — a player so young with so much potential at the game's most important position being, maybe, available for trade. And such a unique situation should prompt the kind of widespread interest that's rare in the NFL.
Touchdown Wire: Why the Patriots would be crazy not to trade for Josh Rosen
Colin J. Liotta writes: "Rosen is 6-foot-4 like Brady and just turned 22. Having him sit for a season or two behind Brady would do wonders for him. Aaron Rodgers sat for several seasons behind Brett Favre. Patrick Mahomes sat his rookie year and learned behind Alex Smith. Rosen would be going into the perfect situation in New England. Plus, if Josh McDaniels truly is going to be the Patriots' head coach when Bill Belichick finally calls it quits, he's going to need a franchise quarterback to make the transition more seamless. Rosen could be a perfect heir to Brady."
MORE:Believe nothing you hear about the Arizona Cardinals and the first overall pick in the NFL draft
Forbes: What's Next For Josh Rosen?
Bill Williamson writes: "There are several teams that could take a play for Rosen. They include the New York Giants, Jacksonville Jaguars, Denver Broncos, Miami Dolphins and Washington Redskins."
Washington Post: Josh Rosen isn't worth the Redskins' first-round pick
Rick Snider writes: "Washington just has to be careful not to pull another Donovan McNabb trade. Why would the Redskins want someone else's reject? If your friend hated his new car because it ran poorly and offered it to you for nearly full price, wouldn't you think twice about buying it? The Redskins need to go slow here. If someone beats them to trading for Rosen, so be it."
SB Nation: Trying to answer the Josh Rosen question for the Patriots
Mark Schofield writes: "Rumors of Rosen to New England have been swirling for over a year now, and given that this is the lying season, they might remain just that: Rumors. But if the QB is truly available, he might be the best option for the Patriots to address the quarterback position behind Brady this offseason has to offer."
Bleacher Report: Josh Rosen Is a 1st-Round Talent, And Cardinals Shouldn't Trade Him for Any Less
Brent Sobleski writes: "NFL success is often dictated by being in the right place at the right time. Right now, Rosen isn't in the right place, but he could be if another team is willing to pay the price commensurate with his talent."
fansided: 5 teams that could trade for Josh Rosen
Dan Parzych lists the Jaguars, Bengals, Dolphins, Redskins and Giants among possible suitors for Rosen in a trade with the Cardinals.
Of the Bengals, he writes: "While the thought of Rosen joining an offense like the Bengals may seem like a bad idea due to the fact that it would most likely result in missing out on the playoffs for a fourth year in a row, take a look at one of the positive factors, which is the team's recent hiring at head coach. Zac Taylor is known mostly for his work to help develop quarterbacks, and for all Cincinnati knows, Rosen could be a fun project for him to work with to kick off his head coaching career."
NFL Network: Kyler Murray believed almost universally to be top pick, what does it mean for Josh Rosen?
From Kimberly Jones: "In terms of Murray, people are beginning to believe almost universally he will indeed be the No. 1 pick in this draft by the Arizona Cardinals. In fact, teams picking in the top 10 believe they'll have no chance of drafting Murray. He's not the biggest quarterback in the world, but he is a very big presence at this combine."
MORE:Kyler Murray No. 1 pick in NFL draft? Momentum growing for Arizona Cardinals to take him
The Big Lead: 4 Trade Destinations for Josh Rosen
Bobby Burack writes about four teams that should pursue Rosen: The Washington Redskins, the New England Patriots, the New York Giants and the Pittsburgh Steelers.
Of the Redskins, he writes: "If you are looking for betting advice, look no further. The Redskins are reportedly the most likely trade destinations for Rosen. With Alex Smith's unfortunately uncertain future, taking a chance on Rosen is the team's best option. Even with a less-than-flashy cast of characters, the always inconsistent NFC East will give Washington every chance to win it over the next few years if they can get their quarterback right. Rosen is a better option than what they can get in the draft and the 46th overall pick should be dangled for him."
Peter King: Josh Rosen worth a third-round pick in NFL draft
From his Football Morning in America column: "I asked Hall of Fame quarterback Kurt Warner, who lives in Arizona and watched Rosen last year, what he thinks the value for Rosen is. "I would give a three for Josh," Warner said. A third-round pick. Yikes. Saturday night, I asked a renowned NFL GM what he thought the value of Rosen in trade would. "Probably a three," the GM said. "Not what the Cardinals would think his value is." Scary, on the surface, for Arizona. But if you've decided you want Murray, and you've decided Rosen's not your guy, you've got to move on, regardless what you get for Rosen."
MORE: Cardinals and No. 1 pick now in play, buzz over Kyler Murray is real and it's spreading
Omar Kelly writes: "Kyler Murray will be the No. 1 overall pick and Josh Rosen will likely be traded before free agency starts. The streets is talking and Washington is the likely landing spot for Rosen."
SB Nation: 6 teams that should trade for Josh Rosen
Christian D'Andrea lists the Giants, Jacksonville Jaguars, Patriots, Miami Dolphins, Tampa Bay Buccaneers and Redskins as possibilities.
Of Tampa Bay, he writes: "How does Byron Leftwich feel about Rosen? The former Cardinals offensive coordinator reunited with head coach Bruce Arians in Tampa this winter, and the two could be in the market for a young quarterback to pick up the pieces if poor judgment shatters Jameis Winston's prospects once more. Leftwich wasn't able to do much with the first-round pick in his rookie year, but much of that damage can be placed on an awful supporting cast."
MORE: Steve Keim fans Kyler Murray rumors with Josh Rosen comment
masslive.com: If Cardinals want Kyler Murray, could Patriots get Tom Brady's successor?
Nick O'Malley writes: "Rosen presents just the sort of buy-low option that the Patriots typically thrive on. Unlike other QB-needy teams, they wouldn't need to start him right away, and would have ample time to acclimate him to their system. Plus, he's still just 22 years old and has three years left on his rookie contract -- costing about $4.5 million a year in terms of cap space."
draftanalyst.com: Redskins have spoken about trading for Rosen
Tony Pauline writes: "Here in Indianapolis sources tell me the Washington Redskins have openly spoken about trading for Josh Rosen, IF the quarterback becomes available."
Washington Post: Do the Cardinals love Kyler Murray enough to give up on Josh Rosen?
Matt Bonesteel writes: "If the Cardinals truly are all in on Murray and this isn't just a smokescreen, there's one rather large stumbling block: the presence of quarterback Josh Rosen, whom Arizona drafted with the 10th pick of last year's draft, trading third- and fifth-round picks to move up. Rosen started 13 games as a rookie and didn't exactly light the league on fire, though the Cardinals were bad all over the field in 2018. But still, Arizona probably would want something nice in return should they decide to trade Rosen. Whether they get what they want is another matter entirely."
MORE: Cardinals trying not to reveal too much when it comes to their interest in Murray
Fansided: 5 optimistic Josh Rosen trade packages
Avery Duncan has the Giants, Redskins, Patriots, Dolphins and Chargers on his list.
Of the Giants, he writes: "The Giants still don't have a plan in place for life after Eli Manning, as Kyle Lauletta's mediocre performance in his small sample size didn't inspire much confidence in New York. But that changes in this trade, as the Giants mortgage their depth picks and immediate impact ones for Rosen, while also throwing in a pass rusher they invested heavily in."
NFL mock draft: